Show #3550 - Friday, January 28, 2000
Lee Lassiter game 4.
Jeopardy! Round
THE NFL'S STAR QUARTERBACKS
(Alex: You have to ID their team.)

This NYC landmark that opened May 1, 1931, in the depths of the Depression, cost a reported $41,000,000

By definition, this type of "cook" specializes in food that has to be prepared quickly

The driving force in a free market is supply & this

Genesis 4:2 says he "was a keeper of sheep"

World Book recommends that when you open with "Dear Sir", you close this way, whether you mean it or not

Last name of the "Ma" killed in a gun battle with the police & FBI January 16, 1935

Usual term for the pianist at a solo vocal recital

Turn-of-the-century businessmen like Vanderbilt & Rockefeller were known as "robber" these

The name of this first great patriarch of Israel means "father of a multitude"

In a business letter, this punctuation mark often replaces a comma after the salutation

It's the "U" in HUAC, a committee formed in 1938

The April week & day honoring these workers were first sponsored by Dictaphone

In this system, goods are traded for other goods; money isn't involved

"The Lord answered" this persecuted man from Uz "out of the whirlwind"

4-letter term for the part of a letter highlighted here:
(in the middle)

He said, "I'm a small fish here in Washington, but I'm a kingfish to the folks down in Louisiana"

Term for one who agrees to perform a task; a "general" one puts up buildings

An exploratory oil well, or a strike called in violation of a contract

This young lyre player became King Saul's armor-bearer

A "letter to" this person, like Ben Bradlee, should rattle on about the world going to hell because of ignorant kids

On September 18, 1934 the Soviet Union joined this international organization

This worker always takes panes, & spends his days fitting them into windows

The USA's second-largest floor-based stock exchange, it joined forces with NASDAQ in 1998

Daniel told this king, "They shall drive thee from men, and thy dwelling shall be with the beasts of the field"

Letters of recommendation get you into college; ones from ex-employers are often called "letters of" this
Scores at the first commercial break (after clue 16):
| | | |
| --- | --- | --- |
| Lee | Mike | Cheryl |
| $1,400 | $2,000 | $200 |
Scores at the end of the Jeopardy! Round:
| | | |
| --- | --- | --- |
| Lee | Mike | Cheryl |
| $4,000 | $4,300 | $400 |
Double Jeopardy! Round
SECOND LADIES' FIRST NAMES
(Alex: We want the first names of wives of vice presidents.)

LETTER PERFECT
(Alex: Each correct response will be a letter of the alphabet.)

In Slovakia the White Carpathians aren't an ethnic group but this, which covers much of the country

After winning the 1980 Best Actor Oscar, he probably felt punch-drunk

Midwestern farmboy & Vietnam draftee Claude is befriended by hippies in this musical

Mrs. John C. Breckinridge (like Mrs. Lincoln)

Women with flowing tresses repeat them 100 times a day; the impressionists made them visible to the viewer

It's the first word of "America the Beautiful"

The Greek island of Samos in the Aegean is 100 miles from Greece's mainland but less than 5 miles from this country

He wrote the classic "The Old Regime and the Revolution" as well as "Democracy in America"

"I'll Make a Man Out of You" & "The Huns Attack" are from this 1998 Disney musical

Richard M. Johnson (trick question)

These two-part altar pieces, like the ones seen here, were common in medieval art:

In NASA launch countdowns, it precedes "Minus seven, minus six"...

A vast central plateau called the Meseta is the largest region of this country

Her 1952 autobiography was "Dance to the Piper"

This animated 1999 musical was subtitled "Bigger, Longer and Uncut"

Critic Clement Greenberg popularized this "abstract" art movement, especially Jackson Pollock's work

It indicates power of maginification in telescopes & binoculars

English county where you'd find the city of Portsmouth

Born in the Netherlands in 1904, this American painter was known for his huge canvases

(Hey, how's it going? I'm Mark McGrath of Sugar Ray) In the video for "Fly", I dance on the ceiling, a la Fred Astaire in this 1951 musical

Merry Mrs. Nelson Rockefeller (the second one)

Classicism was obviously a major influence on this style led by Jacques-Louis David

The top row of letters on a standard keyboard runs from Q to this

The name of this Swiss city perched at 5,300 feet comes partly from matte, "meadow"

An Easter Rebellion participant in 1916, he was president of Ireland from 1959 to 1973

As Esther Hoffman, Barbra Streisand sang "Evergreen" in this film

Happy farmers were seen in the USSR's official art, the "Socialist" type of this

This British abbreviation for pence came from a Latin word for a coin
Scores at the end of the Double Jeopardy! Round:
| | | |
| --- | --- | --- |
| Lee | Mike | Cheryl |
| $7,200 | $5,100 | $1,600 |
| | | |
Final Jeopardy! Round
An August 6, 1945 Associated Press story described this as a "Japanese army base"
Final scores:
| | | |
| --- | --- | --- |
| Lee | Mike | Cheryl |
| $10,300 | $5,900 | $1,600 |
| 4-day champion: $48,700 | 2nd place: Trip to Red Mountain Resort & Spa, Utah | 3rd place: VTech Cordless Phones |
Game dynamics: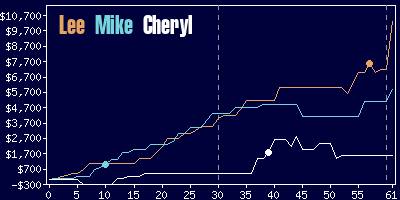 Lee
Mike
Cheryl
$7,800
$5,100
$1,400
21 R,
2 W
(including 1 DD)
17 R
(including 1 DD),
1 W
9 R
(including 1 DD),
4 W
Game tape date: 1999-11-16