Show #3722 - Tuesday, November 7, 2000
Jeopardy! Round
ELECTION DAY
(Alex: How appropriate!)

RODENT, MARSUPIAL OR PRIMATE

In 1960 Richard Daley's political machine gave JFK a narrow, disputed win in this state

It's the Flintstones' home town

Magellan data indicate the Cleopatra crater on this inner planet is of impact, not volcanic, origin

In 1993 Polish-born general John Shalikashvili became chairman of this group

If a Canadian says to you, "Hey, hoser, uncork me a Molson, eh", he wants you to do this

His 1956 victory was the first time in over a century that the party of the presidential winner didn't control Congress

In a current show residents of this New England city include Dr. Sydney Hansen & her father Jim, a veterinarian

Tamara Dobson played this secret agent in 2 1970s films

We forget this impassioned man, then remember him again every election year

In Hebrew it can mean hello. goodbye or well-being

In 1980 Carter gave this "speech" at 9:50 P.M., the earliest since Alton B. Parker in 1904

This favorite of the '60s was set at Coral Key Park in Florida

In the '60s this man & woman made their first record as Caesar & Cleo

At sporting events "Rainbow Man" Stewart often promoted this chapter & verse of the gospel of John

From the Latin for "to lick", it's a ridiculing satire & a Harvard magazine

In 1944 this victorious running mate sent FDR a telegram reading, "Isolationism is dead"

In the '60s this town full of secrets was home to the Harringtons & the Mackenzies

A 1989 biography dubbed this singer-dancer "Jazz Cleopatra"

At age 70, this former action star won the 1998 Best Supporting Actor Oscar for "Affliction"

Based on its etymology, it's the period in a human's life when you'd expect him or her to be speechless

In 1988 Bush beat Dukakis on this, the latest possible election day

Burt Reynolds' character Wood Newton was a football coach in this title town

Designed around 1500 B.C., it was set up on the Thames embankment in the 1870s

"Colorful" name of the IBM computer that lost to Garry Kasparov in 1996 & beat him in '97

The spirit or outlook of a period or generation, it's German for "time spirit"
Scores at the first commercial break (after clue 15):
| | | |
| --- | --- | --- |
| Bob | Carol | Bruce |
| $2,400 | $300 | $900 |
Scores at the end of the Jeopardy! Round:
| | | |
| --- | --- | --- |
| Bob | Carol | Bruce |
| $3,800 | $700 | $2,000 |
Double Jeopardy! Round
| | | | | | |
| --- | --- | --- | --- | --- | --- |
| | | | | | |
| State where you'll find the homes of Harry Truman & Jesse James | Former newspaper illustrator Chester Gould created this comic strip about a police detective | French for "sherbet", it's often served as a palate refresher between courses | First published in 1937, it was revised in 1951 to bring it into line with "The Lord of the Rings" | In 1990 MTV banned her steamy video for "Justify My Love" | Proverbially, it "gets the worm" |
| A house in this state's city of Hackensack was given to Baron von Steuben for service to the U.S.; he sold it | Joe Shuster, who co-created this comic book hero in 1934, was destitute by the '70s | For your dining pleasure, we'll be serving this meat tonight with a Marsala sauce, or in osso buco | Chapters in the autobiography of this man include "Harlemite", "Hustler" & "Black Muslims" | She founded the Church of Christ Scientist, which relies on spiritual healing | Far-flung Philly fans are fanatical for this football franchise, the pro champs in '48 & '49 |
| The L.L. Nunn House is an architectural highlight of Telluride in this state | 10-time Hugo Award winner Kelly Freas is famous for illustrating the magazine called "Astounding" this genre | It's a spicy soup made with tripe & calves' feet, or the name of Ricky Martin's old group | These are usually written in prose, but Pope's "On Man" & "On Criticism" are poems | A bestselling book by this woman seen here grew out of her commencement speech at Holy Cross | Title held in different countries at different times by Balbinus, Bao Dai & Bidatsu |
| You can visit the mansion of shipping magnate Jeremiah Lee in Marblehead in this state | Daumier pioneered this type of exaggerated cartoon by showing King Louis Philippe as a giant pear | Often stuffed with meat & cheese, this ring-shaped pasta is a specialty of Bologna, Italy | This satirist's 1734 "Lettres Anglaises" extols England & by implication criticizes France | Al Gore's mom, Pauline, was the only woman in this Nashville university's law school Class of 1936 | With an extensile glutinous tongue, this spiny Australian monotreme mercilessly slurps up its insect prey |
| The home of Jonathan Hager stands in the "town" named for him in this state | He drew the New Yorker cover "View of the World from Ninth Avenue", much copied as a poster | Impress your guests by serving this dish, also called Bei Jing Kao Ya | "Blue at the Mizzen" is the 20th of his books detailing the naval career of Jack Aubrey | The title of this columnist's 1992 book asserted that she "Can't Say That, Can She?" | The turning point in the war in north Africa, this October 1942 battle saw the Brits kick serious Nazi butt |
Scores at the end of the Double Jeopardy! Round:
| | | |
| --- | --- | --- |
| Bob | Carol | Bruce |
| $9,700 | $2,300 | $6,800 |
| | | |
Final Jeopardy! Round
The night before their first mass jump in 1940, paratroopers at Fort Benning saw a Western about this man
Final scores:
| | | |
| --- | --- | --- |
| Bob | Carol | Bruce |
| $13,801 | $0 | $10,000 |
| 2-day champion: $22,301 | 3rd place: Pair of Ebikes (bicycles) | 2nd place: Trip to Kona, Hawaii |
Game dynamics: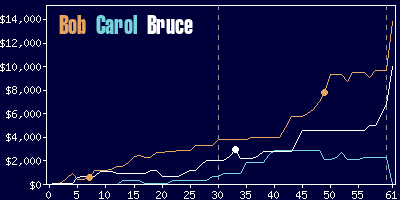 Bob
Carol
Bruce
$8,900
$2,300
$7,600
25 R
(including 2 DDs),
4 W
10 R,
3 W
18 R,
3 W
(including 1 DD)
Game tape date: 2000-09-28