Show #3891 - Monday, July 2, 2001
Kevin Keach game 4.
Jeopardy! Round
He served the shortest term as president:
one month

Profession of Joseph (of Christmas, not Halloween, fame)

The buttercup produces cup-shaped flowers of this color

In 1992 she was elected to succeed Alan Cranston as U.S. Senator from California

He started as a play-by-play man in 1971 & became an analyst in 1986

To be meticulous is to dot one's I's & to do this to one's T's

He created cabinet posts for HUD & the Department of Transportation

What an angry mob might have done to David's "Blue Velvet"

In 1962 he reached No. 11 on the country charts with "Tennessee Flat-Top Box"; in 1988 daughter Rosanne hit No. 1

This Dallas quarterback was quite "Dandy"

This term for the material seen here with shears also means to swindle someone out of money

He won the popular vote but lost the election of 1824

This castle in Brno used as a Hapsburg prison didn't make "Schindler's List"

It's the summary of a baseball game in the form of a table listing players & their performances

The current play-by-play commentator, he's remembered for calling the Olympic hockey games in the '80s

The verbs in the title "Bewitched, Bothered, and Bewildered" are in this grammatical voice

He was the first sitting president to lead the nation in war

Tragic 1846-47 pioneer "party" that could have used "Superman" to rescue them

The flowers of the lily of this are used to make the French toilet water eau d'or

Called by some the "Gravity Grand Prix", it was begun in Dayton, Ohio, but moved to Akron in 1934

He played himself in the films "Bananas" & "The 500-Pound Jerk" & was a lawyer before becoming a sportscaster

As a verb, it means to flow slowly through a small opening; as a noun, it's the mud on the ocean floor

He was the first president who had been a governor

This popular stencil-bearing wood chair of 19th century America can make a cameo in your house

Each autumn the Japanese celebrate the feast of this flower

In the early 1950s this "Myra Breckinridge" author wrote 3 mysteries using the pseudonym Edgar Box

This quarterback's real first name is Norman & he was stormin' as an analyst during the 1998-99 season

In English it means "to change"; in Latin it means "other"
Scores at the first commercial break (after clue 15):
| | | |
| --- | --- | --- |
| Kevin | Jeremy | Dan |
| $1,600 | $1,500 | $500 |
Scores at the end of the Jeopardy! Round:
| | | |
| --- | --- | --- |
| Kevin | Jeremy | Dan |
| $2,200 | $1,200 | $900 |
Double Jeopardy! Round
| | | | | | |
| --- | --- | --- | --- | --- | --- |
| | | | | | |
| "The Way Forward Is With A Broken Heart" is a largely autobiographical story collection by this "Color Purple" author | One of Jack's memorable moments is stealing this line from Ed McMahon in "The Shining" | If you're doing the Montreal speed limit of 50 in your car, make sure it's in these units per hour | 2-word term for the dispenser seen here, a traditional center for office gossip | Country singer Audrey Hill | Archie Bunker's derogatory nickname for son-in-law Mike Stivic |
| "Deck The Halls", a Christmas thriller, was a joint effort by Carol Higgins Clark & this author, her mom | This actress, Jack's longtime girlfriend, acted with him in her dad's movie "Prizzi's Honor" | Examples of these in Montreal include The Mirror & Le Devoir | The Ergomax is one of these designed for office use | U.S. Steel founder John Morgan | Latin for "through my fault", this 2-word phrase is an acknowledgement of a personal error |
| A sleuth named Kinsey Millhone is the heroine of her Alphabet Mysteries | In this 1969 film Jack wonders, "This used to be a fine country. What went wrong?" | Montreal's many underground walkways lined with shops & cafes use an idea credited to this Renaissance man | 14-letter term for a meeting in which Tom & Dick in New York can see Harry in L.A. on closed-circuit TV | Media critic Herbert McLuhan | Showers of these include the Leonid, the Geminid & the Lyrid |
| In 1949 this Nobel laureate founded Welcome House, an adoption agency specializing in Asian-American children | In a 1992 movie, Nicholson portrayed this famous American, who's seen here with kind of a Jack-like grin | Montreal's "Juste pour rire" comedy festival held each July is known as this in English | William Safire says this euphemism for corporate firings "strikes fear into...white-collar worrywarts" | '50s senator Cary Kefauver | This term for following a winding & turning course comes from a river in Phrygia noted for its windings |
| "All That Remains" & "Cause of Death" are among her novels featuring medical examiner Kay Scarpetta | Nicholson won an Oscar for playing this rebellious character in "One Flew Over The Cuckoo's Nest" | In 1535 this man sailed to the site of future Montreal & came upon a large fortified Indian settlement there | From the Latin for "turn aside", this training makes workers respect the weird customs of Shahia from Zenguland | | This young man joined Shadrach & Abednego in Nebuchadnezzar's fiery furnace |
Scores at the end of the Double Jeopardy! Round:
| | | |
| --- | --- | --- |
| Kevin | Jeremy | Dan |
| $6,400 | $6,000 | $6,000 |
| | | |
Final Jeopardy! Round
By the river Lagan on the island of Ireland, it was chartered in 1613 & settled by Presbyterians & later Huguenots
Final scores:
| | | |
| --- | --- | --- |
| Kevin | Jeremy | Dan |
| $12,001 | $12,000 | $12,000 |
| 4-day champion: $45,303 | 2nd place: Trip to Maruba Resort Jungle Spa, Belize | 3rd place: IKEA Shopping Spree |
Game dynamics: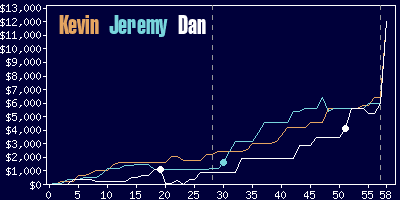 Kevin
Jeremy
Dan
$6,400
$5,800
$6,300
18 R,
1 W
18 R
(including 1 DD),
2 W
13 R
(including 1 DD),
4 W
(including 1 DD)
Game tape date: 2001-03-07