Show #3844 - Thursday, April 26, 2001
Jeopardy! Round
As a child, he was known as "Little Ike"; he later dropped the "Little"

In 1863 it was admitted to the Union as the 35th state

As its name suggests, Mrs. United States calls itself "The Premier Pageant For" women of this status

It sets sail in Genesis 7

The 4-H Club uses one of these in its symbol

A 1982 playoff reception by Dwight Clark from this quarterback is simply known as "The Catch"

He was so big that a bathtub large enough to hold 4 men was installed in the White House for him

He founded the electric company bearing his name in 1886

2001 is the 50th anniversary of this grandiose title currently held by Lara Dutta of India

This team won its first Stanley Cup in 1932

Hugh McElhenny, who once averaged 8 yards a carry for a season, had this nickname, like Elvis

To some, he was "Tippecanoe"; to others, "Old Tip"

During the 2000 election, this winter resort city of southeast Florida gained unexpected notoriety

In 1947 Barbara Walker was the last Miss America to be crowned wearing one of these

These metropolises are destroyed in Genesis 19

A myth has it that the best ones are made from leaves rolled on the legs of Cuban women

This 49er seen here, one of the Bay's most eligible bachelors, finally wed in 2000

This word became forever linked with Warren Harding when he mispronounced the word "normality" in a 1920 speech

These islands separate the Caribbean Sea from the Atlantic Ocean

Seen here, Marjon Brady was a "sweetheart" as "Miss" this "USA 2000"

The
start
of
this
structure
is found in
Genesis 11

In 1874 the dome of the state house in Boston was carved in this, replacing Revere's copper sheathing

Coach Red Hickey pioneered this formation, with the quarterback standing well behind the line to take the snap

In a tragic coincidence, his mother & his first wife, Alice, both died on Valentine's Day in 1884

Her films include 1933's "I'm No Angel"

Women representing this South American country have won 5 Miss World titles

In Genesis 40 he takes a job as a dream interpreter

The American leaf-nosed species of this mammal mainly eats insects, but may chow down on an occasional frog

This defensive back known for hard hitting entered the Pro Football Hall of Fame in 2000
Scores at the first commercial break (after clue 15):
| | | |
| --- | --- | --- |
| Tom | Sanjit | Steve |
| $900 | -$100 | $2,400 |
Scores at the end of the Jeopardy! Round:
| | | |
| --- | --- | --- |
| Tom | Sanjit | Steve |
| $1,300 | $0 | $4,900 |
Double Jeopardy! Round
DEEP IN THE HEART OF TEXAS

AT THE INTERNATIONAL CINEPLEX

'49ers
(Alex: A different group, perhaps)

San Jose, San Juan & Concepcion are missions in this city, though we left out the most famous one

Andy Warhol made an 8-hour-film of one facade of this New York City landmark

In Hong Kong, this film was "Special Unit in Black Sunglasses"; in Taiwan, "Interstellar Fighting Police"

On January 10, 1845 he wrote, "I love your verses with all my heart, dear Miss Barrett"

In 1949 the Bridges family produced Jeff & this acting dynasty brought forth Keith

Fredericksburg, hometown of Chester W. Nimitz, has a garden of peace given by this country Nimitz fought

The Nobel Prize Dinner is held each December in the Blue Hall of this city's Stadshuset, seen here

Bill Murray may have played Bosley but we think fans in Taiwan showed up to see these title "Hot Babes"

Ralph Waldo Emerson wrote Walt Whitman that this book was a "most extraordinary piece of wit and wisdom"

Born in 1949, he graduated Harvard law in '78 & published the novel "The Burden of Proof" in '90

You'll find the main store of Neiman-Marcus on Main Street in this big city

In July 2000 a production of "Oedipus Rex" was the 1st spectacle staged in this Roman arena in 1,500 years

In Hungary they know Jack Nicholson won a '97 Oscar for "It Might Not Get Any Better"; we know it as this

His famous love letter began, "Though still in bed my thoughts go out to you, my immortal beloved"

Bruce Springsteen was born in '49 1 month after this rocker & "General Hospital" star

This national park is named for its location on the Rio Grande, seen here

The Winter Palace is one of the 4 buildings that make up this Russian museum complex

Latin America saw right through this 2000 Kevin Bacon thriller, known there as "The Man Without Shadow"

In 1610 he described the moon as seen in his telescope as having a "rough and unequal" surface

These 2 younger brothers of Barry Gibb were born Dec. 22, 1949

This city southwest of Midland got its name from homesick Russian railroad workers

Crooner Crosby's fruit?
(4, 6)

On Aug. 25, 1995 about 35,000 couples were married at the Olympic Stadium in this world city

Jennifer Love Hewitt fans got hooked in Oslo watching "Summer Of Fear", known here as this

In 1912 Robert Scott wrote to this creator of "Peter Pan", asking him to take care of "my widow and my boy..."

The second U.S. woman in space, she flew on the Discovery & perished with the Challenger
Scores at the end of the Double Jeopardy! Round:
| | | |
| --- | --- | --- |
| Tom | Sanjit | Steve |
| $3,700 | $2,800 | $9,900 |
| | | (lock game) |
Final Jeopardy! Round
Pixie Chasma & Sprite Vallis are features on this moon of Uranus named for a character in "The Tempest"
Final scores:
| | | |
| --- | --- | --- |
| Tom | Sanjit | Steve |
| $1,700 | $1,800 | $8,800 |
| 3rd place: Epson Prize Package | 2nd place: Princess Caribbean Cruise | New champion: $8,800 |
Game dynamics: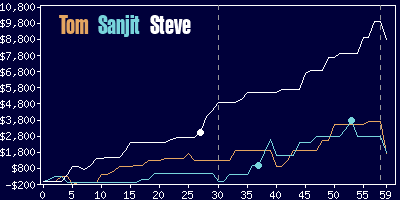 Tom
Sanjit
Steve
$3,700
$4,000
$9,400
15 R,
3 W
12 R
(including 1 DD),
4 W
(including 1 DD)
22 R
(including 1 DD),
1 W
Game tape date: 2001-02-01