Show #3815 - Friday, March 16, 2001
Jeopardy! Round
AYE! IT'S IRELAND
(Alex: Tomorrow is St. Patrick's Day!)

PRESIDENTS IN THE CABINET

Also called Trinity College, the university of this capital was founded in 1592

While Secretary of State from 1811 to 1817, he might have been asked, "What's up, doctrine?"

On "Spin City" Michael J. Fox played Mike; this actor who replaced him plays Charlie

In 1995 these married physicists were laid to rest (again), this time at the Pantheon in Paris

Robert Delaunay is known for his colorful series of Cubist paintings of this French tower

Held each year in County Kildare, the Irish Derby is a famous event in this sport

While Secretary of State from 1801 to 1809, he was president from 1809 to 1817

In 2000 this Oscar nominee joined the cast of "Ally McBeal" as a lawyer

In 2000, 25 years after his death, this country's last emperor Haile Selassie was laid to rest in a crypt in Addis Ababa

Oh oh! Chauncey B. Ives depicted this mythological woman seen here on the verge of opening a box

Sajak's Stetsons & sombreros

Reflecting its lush, beautiful countryside. it's Ireland's gem of a nickname

Through skillful negotiation, Secretary of State Martin Van Buren got the U.S. this trade status with Turkey

Aliens abducted Mulder on "The X-Files", so Scully got partnered with this "Terminator 2" actor

It was no laughing matter when this silent film legend's body was stolen from a Swiss cemetery in 1978

Marcel Duchamp coined this term to describe Alexander Calder's moving sculptures

The vistas seen from Ms. Barrymore's home

One of Ireland's most important exports, it's also Ireland's most popular brand of stout beer

As Secretary of State, John Quincy Adams told this country to govern Florida better or cede it to the U.S.

This tap dancer has a recurring role on "Will & Grace" as Eric McCormack's boss

Wayne Newton hopes to find the remains of this tribal ancestor in Britain & bring them home to her native Virginia

Conrad Witz depicted this wealthy queen with King Solomon in the 15th C. work seen here

Ireland's national coat of arms features this traditional Irish musical instrument

He wasn't a Secretary of State, he was Andrew Johnson's Secretary of War in 1867 & 1868

In 2000 this rapper-turned-actor joined the cast of "Law & Order: Special Victims Unit" as Richard Belzer's partner

Thomas Crawford's best-known work, "Armed Liberty", is the bronze atop the dome of this American landmark

In Salzburg you can visit the graves of his parents & his wife Constanze; his own location is uncertain

Hairdresser Vidal's woodwinds
Scores at the first commercial break (after clue 15):
| | | |
| --- | --- | --- |
| Raj | Steve | Anne |
| $800 | $600 | $1,000 |
Scores at the end of the Jeopardy! Round:
| | | |
| --- | --- | --- |
| Raj | Steve | Anne |
| $1,600 | $1,200 | $2,900 |
Double Jeopardy! Round
MOVIE SONGS
(Alex: You have to identify the film.)

It's the body part you're said to have if you've a knack for growing plants easily

He said, "My mother was an ape, and of course she couldn't tell me much about it"

Perhaps "imitating" Florida, in 1929 Arkansas chose this as its state bird

For an active woman, 20 to 25 percent of her total calorie intake should be from this; don't go all Jack Sprat

1996:
"Don't Cry For Me, Argentina"

The "double" version of this card game for one requires 2 players

After protecting this territory during WWII, the U.S. offered to buy it, but Denmark refused

In "A Connecticut Yankee in King Arthur's Court", his character puts Hank Morgan to sleep for 1,300 years

Bob Hope claimed his mother saw his nose & cried that the doctor took the baby & left this bird

It's good to break a little this between friends

--

it supplies carbs & fiber

1995:
"Exhale (Shoop Shoop)"

In November 1996 Roy Jones, Jr. knocked down Mike McCallum & won the WBC title in this division

A political party organized after the Civil War, or a piece of U.S. currency

He tells his 10-year-old sister Phoebe that he wants to be a "catcher in the rye"

Unit of Random House whose logo is seen here:

People with hypertension should diet & limit their intake of alcohol & this chemical element

1991:
"(Everything I Do) I Do It For You"

The American Academy of Pediatrics called smoking "The leading cause of" this oxymoron in the U.S.

Oh yes, this North Carolina city was the birthplace of O. Henry

Emma is the first name of this title character of an 1857 Gustave Flaubert novel

The "sky" type of this songbird, of which Shelley wrote, may be gone from Britain by 2009

The flavonoids in this may help prevent heart disease, so a "kiss" a day may keep the cardiologist away

1969:
"Everybody's Talkin'"

Roberto Benigni's film "Life Is Beautiful" is a beautiful example of this oxymoronic genre

A precocious redhaired little girl is the heroine of this 1908 children's book by Lucy Maud Montgomery

This Sinclair Lewis real estate broker is a member of the Zenith civic booster club

An ounce of cheddar cheese has 200 milligrams of this, crucial to healthy bones

1985:
"We Don't Need Another Hero"
Scores at the end of the Double Jeopardy! Round:
| | | |
| --- | --- | --- |
| Raj | Steve | Anne |
| $3,800 | $1,400 | $2,500 |
| | | |
Final Jeopardy! Round
This racket sport takes its name from the country home of the 19th century Duke of Beaufort
Final scores:
| | | |
| --- | --- | --- |
| Raj | Steve | Anne |
| $2,600 | $2,400 | $2,000 |
| 4-day champion: $29,400 | 2nd place: a trip to London courtesy of Priceline.com | 3rd place: a Fisher home entertainment system |
Game dynamics: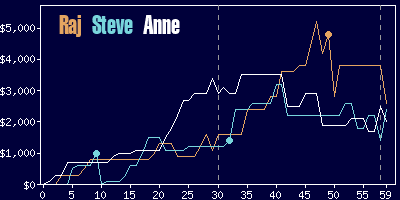 Raj
Steve
Anne
$5,800
$1,800
$2,500
16 R,
4 W
(including 1 DD)
15 R
(including 1 DD),
5 W
(including 1 DD)
17 R,
5 W
Game tape date: 2000-12-05