Show #779 - Thursday, January 14, 1988
Leah Greenwald game 4.
Jeopardy! Round
WARTHOGS
(Alex: ...probably the first and only time we will ever see it on Jeopardy!... And I promise you that everything you could possibly want to know about a warthog is contained in that category!)

PALINDROMES
(Alex: Of course, all of the responses are spelled the same frontwards and backwards.)

St. Brigid founded the 1st convent in this country, at Kildare, & is one of its patron saints

In 1949, Barry Goldwater was elected to the city council of this Arizona city

Roots, grasses, berries, birds' eggs, & even small mammals

The juice of this fruit makes up to ⅓ of a Valencia cocktail

St. Augustine of Canterbury was the first to hold this title, circa 601

Later his 1st att'y general, Herbert Brownell Jr. urged him to select Nixon as a running mate

It's not "a long way to" this drink, if you've got Irish whiskey, chartreuse & vermouth

Type of rally given by cheerleaders or talk given by the coach

Though St. Mark probably wrote his book first, this saint gets first billing in the New Testament

This Tennessean replaced Donald Regan as Reagan's Chief of Staff

Warthogs stick this long, thin, tufted body part straight up in the air when they run

If you order this cold drink on "Long Island", you're apt to get 5 distilled spirits, not brewed leaves

It can precede chart, art, or "the question"

He was a Republican when elected mayor of NYC in 1965 but became a Democrat in 1971

Title of the following, it's also a cocktail made of Scotch whisky, sugar, & bitters:

"Well you take the high road, and I'll take the low road"
"But I'll be in be in Scotland before ya /
For me and my true love may never meet again..."

Soft or semi-liquid foods, as for infants

President of Bell & Howell at 29, he went on to become an Illinois senator

You're off to the races in Upstate N.Y. with this drink of ginger ale, sugar, bitters & lemon juice

A dot indicating a unit of numerical value on dice or dominoes
Scores at the first commercial break (after clue 13):
| | | |
| --- | --- | --- |
| Leah | Debbie | Eytan |
| $1,200 | $1,200 | $500 |
Scores at the end of the Jeopardy! Round:
| | | |
| --- | --- | --- |
| Leah | Debbie | Eytan |
| $3,400 | $900 | $1,900 |
Double Jeopardy! Round
| | | | | | |
| --- | --- | --- | --- | --- | --- |
| | | | | | |
| In 1691, Plymouth Colony became part of this colony | Of "Sir", "Reverend", or "Dr.", title Charles Lutwidge Dodgson could properly use | In August 1987, 3859 people did this together in Macy's annual "Tap-O-Mania" | Leslie Howard's contract salary for this film was more than twice Vivien Leigh's | Born in the Danish West Indies, Camille Pissarro ran away to this Venezuelan capital to paint | Alice Mitchell is this famous kid's mom |
| The 1765 Quartering Act required Colonial cities to provide this | Mythical land mentioned by Samuel Johnson in his "Debates" & Jonathan Swift in his "Travels" | If you spent more than $60,000 in 1987 at this Texas-based department store, you got a Super Bowl trip | In the 1948 film, Leonide Massine makes this title footwear for Moira Shearer | Fragonard & Watteau have been called 2 of the great poetic painters of this century | The Flying Dr. Service & School of the Air are based in this isolated central Australian town |
| King Wiliam's Queen Anne's & King George's were wars Colonists fought in against this country | The P.M.'s office offers a name to the sovereign, who then appoints the writer to this post | | In "Vertigo", Kim Novak throws herself into the bay beside this famed bridge | His sculptures of famous writers included Shaw, Balzac & 2 nudes of Victor Hugo | |
| Just 10 years after its incorporation, this city had more people than 80-year-old NYC | Most famous work of Edward Gibbon, who became Commissioner of Trade & Plantations | #2 chain in sales, they've hired style expert Martha Stewart to spruce up their image | In this 1932 Oscar-winner, there was room in the inn for a Beery & 2 Barrymores | Partial blindness compelled him to stop painting ballerinas circa 1898 | Her "Autobiography", published in 1933, was actually written by a close friend |
| | Among this 19th-century writer's poems are "Pippa Passes" & "The Pied Piper of Hamelin" | In mid-1987, this store started a ₤200 million restoration of its Knightsbridge facility | Tho this man wrote the novel, R. Chandler & B. Wilder wrote the screenplay for "Double Indemnity" | South American sculptress who topped her big boxlike figures with her own face | The fictional Alice Rutherford married John Clayton & bore this child |
Scores at the end of the Double Jeopardy! Round:
| | | |
| --- | --- | --- |
| Leah | Debbie | Eytan |
| $8,400 | $3,900 | $5,600 |
| | | |
Final Jeopardy! Round
The 2 longest rivers found in Idaho, both named for animals which begin with "S"
Final scores:
| | | |
| --- | --- | --- |
| Leah | Debbie | Eytan |
| $11,201 | $0 | $5,399 |
| 4-day champion: $42,801 | 3rd place: Armstrong Anything Goes carpeting | 2nd place: Admiral "Refrigerator à la mode" with "party ice" + Multi-Pure drinking water system with solid carbon block filter |
Game dynamics: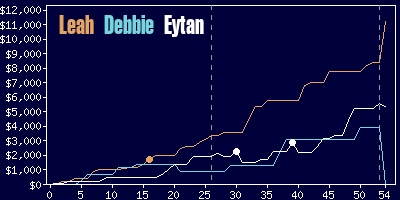 Leah
Debbie
Eytan
$8,500
$3,900
$7,100
23 R
(including 1 DD),
0 W
8 R,
1 W
18 R,
3 W
(including 2 DDs)
Game tape date: 1987-09-28