Show #4340 - Friday, June 13, 2003
John Beck game 1.
Jeopardy! Round
WORLD OF AUTHORS
(Alex: You have to name the country the author was originally from)

Lorraine Bracco dared to go bare when she took over the role of Mrs. Robinson in this play based on a film

To display one's competence is to "earn" these, like a pilot

Federal Reserve notes carry the phrase "This note is legal tender for all" these, "public and private"

Founded in 1954, it's based on "Dianetics: The Modern Science Of Mental Health"

When he left NASA to be a Univ. of Cincinnati prof., he took one giant leap into retirement from the public eye

This "Independence Day" co-star was in a league of his own as a real animal lover in Edward Albee's play "The Goat"

This 3-word phrase meaning "crazy" or "way out there" could also describe Humpty Dumpty

2 of the 3 currently minted U.S. coins that have no grooves around the edge

Abbreviated TM, it came to prominence through the work of Maharishi Mahesh Yogi

His sudden retirement from the NBA on Nov. 7, 1991 shocked the sports world

"Gantry", a 1970 musical version of "Elmer Gantry", featured this "West Side Story" Oscar winner as Sister Sharon

To leave a ship in dangerous fashion, or to express excessive enthusiasm

The reverse of this state's quarter released in 2000 depicts the Minuteman statue & an outline of the state

Their magazine is called "The Watchtower" & their churches are called Kingdom Halls

In 1974, frustrated with GM's management, he quit & with British funding, built a stainless steel luxury sports car

(Sarah of the Clue Crew reports from the stage of the Neil Simon Theater in NYC)
This actor who's just divine as Tracy's mom in "Hairspray" wrote & starred in the play "Torch Song Trilogy"

This metaphor for a treacherous ploy is illustrated here by 18th century painter Giovanni Domenico Tiepolo

This president began appearing on the half dollar coin in 1964

It's the 2-word name for the Hindu sect founded in the U.S. in 1965 by Swami Prabhupada

On Nov. 25, 1980 Roberto Duran said, "No mas" & quit in the eighth round against this fighter

When the Neil Simon Theater got its name in '83, this young actor was starring there in Simon's "Brighton Beach Memoirs"

A stroke of luck can be compared to this food that appears in the desert in Exodus 16

It has the smallest total dollar amount in circulation of any paper currency now issued

The prophet of this religion, Mirza Husayn Ali, is known as Baha'u'llah or "Glory of God" to the faithful

In March 1987 Bettino Craxi quit after a 3 1/2-year term in this post, a post-WWII record
Scores at the first commercial break (after clue 15):
| | | |
| --- | --- | --- |
| Tara | Amasa | John |
| $1,800 | $1,200 | $5,200 |
Scores at the end of the Jeopardy! Round:
| | | |
| --- | --- | --- |
| Tara | Amasa | John |
| $4,500 | $1,200 | $6,200 |
Double Jeopardy! Round
LOSING THE "WAR"
(Alex: In actual fact, it's losing the letters "war" - for instance, "When this word loses a "war", it becomes a commercial"; the word would be "award", so you take the "war" out of it & it becomes "ad".)

The "horns" of the great horned owl are actually made of these

This slugger from Fargo, North Dakota hit 61 home runs in 1961

In March in a secret meeting Pope John XXIII created 10 new ones of these, increasing their ranks to 88

A magic flying carpet was a character in this 1992 Disney film

The seat of San Mateo County is named for this huge tree

--

it was a center for its lumber

After losing the "war" running a prison, he goes home to his study

At about 4 1/2 feet in height & 180 pounds, this red-haired great ape is the largest tree-dwelling mammal

The youngest man to win a men's singles title at Wimbledon was this German in 1985

The USSR signed a trade agreement with this country in February to buy 5 million tons of sugar a year over 5 years

Airline that wanted you to "Fly The Friendly Skies"

Downey, California boasts the oldest existing restaurant in this chain, opened in 1953

When losing a "war", this earned prize becomes a badge of courage color

(Sarah of the Clue Crew flying over Volcanoes National Park in Hawaii)
This melted rock which eventually becomes lava may form up to 100 miles below the volcano's surface

Hockey's hard-hitting "Boom Boom" Bernie Geoffrion played for this team in the '50s

In submarine feats, the Sargo went to the North Pole & the Triton did this, submerged, in 84 days

To be an official NHL Flyer, you have to play your home games in this city

This San Francisco hill got its name when railroad tycoons like Mark Hopkins built fancy homes there

Watch out, it creates quite a buzz after losing a "war"

Bright blue clouds of methane surround this eighth planet from the sun

(I'm NFL QB & Purdue graduate Drew Brees)
The 2 Purdue grads in the Pro Football Hall Of Fame are Len Dawson & this QB who led Miami to victory in Super Bowl VII

On January 9, 1960 President Nasser set off 10 tons of dynamite to start construction of this

They are the 2 planets mentioned in the classic tune "Fly Me To The Moon"

This internment camp for Japanese-Americans near Independence, California is now a national historic site

Offensive position in basketball that becomes a car after losing the "war"

This physicist known for his "uncertainty principle" was one of the founders of quantum mechanics

This man was the NBA's "Human Highlight Film" during his 13-year career with the Atlanta Hawks

Fabiola de Mora y Aragon of Spain was a December bride; she married Baudouin, king of this country

Harry H. Gardner, reportedly dubbed this by Grover Cleveland, made his living climbing up the sides of buildings

"Some Like It Hot" was filmed at this historic San Diego area hotel, seen here

A defensive safeguard, like a rampart; after it loses the "war" it still has heft
Scores at the end of the Double Jeopardy! Round:
| | | |
| --- | --- | --- |
| Tara | Amasa | John |
| $15,400 | $4,400 | $21,200 |
| | | |
Final Jeopardy! Round
The first & middle names of this wealthy man who died in 1975 were those of people who died in 322 B.C. & 399 B.C.
Final scores:
| | | |
| --- | --- | --- |
| Tara | Amasa | John |
| $25,001 | $2,000 | $31,200 |
| 2nd place: $2,000 | 3rd place: $1,000 | New champion: $31,200 |
Game dynamics: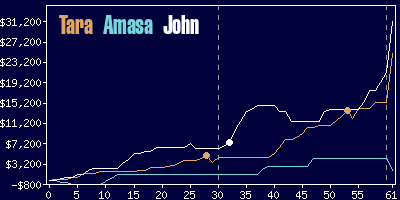 Tara
Amasa
John
$18,400
$4,400
$19,800
25 R,
2 W
(including 2 DDs)
6 R,
2 W
24 R
(including 1 DD),
3 W
Game tape date: 2003-02-19