Show #4697 - Tuesday, January 25, 2005
Jeopardy! Round
THE SMALLEST IN AREA
(Alex: We'll give you a choice.)

AROUND THE COLOSSEUM WITH COWARDUS

Canada,
United States,
Russia

"Crazy" penned by Willie Nelson made the pop top 10 in 1961 for this singer

A reluctant young Cowardus was sent to train as a gladiator, a word from the Latin for this weapon that terrified him

It's a south-of-the-border wool blanket made with a slit opening for the head

I am using the "Joy of Cooking" recipe for broiled fillets of swordfish with olive oil and this juice

Australia,
New Zealand,
Indonesia

In 1993, this band was "Cryin'"; in '94 it went from "Amazing" to "Crazy"

Cowardus coughed conveniently whenever his teammates cried, "We who are about to" do this, "salute you!"

British "braces" are the equivalent of these American trouser accessories

I am having a sky light made from this, a trademarked name for transparent plastic

In 1976, this Seattle band led by the Wilson sisters went "Crazy On You"

As the Colosseum was not built until 80 A.D., this 1st Roman emperor missed Cowardus' 1st panicked sprint to safety

They were once measured in buttons; a one-button was wrist length, a 16-button, formal length

I am learning to play this instrument seen here

In 1980 Queen topped the U.S. pop charts for the first time with this "amorous" tune

Cowardus' duel with Timidius was so boring (they played chess) that this emperor started rereading his "Meditations"

The soles of some footwear are made of this edible-sounding type of crinkly rubber

I am an LL.D., which stands for doctor of this

Pakistan,
India,
Afghanistan

"But we're never gonna survive unless" you name this artist who hit the Top 10 in 1991 with "Crazy"

Commodus was on the throne when this largest big cat started licking Cowardus, tragically scaring him to death

The book "Let There Be Clothes" says the corset was replaced in the 1950s by the panty-style one of these

I am from this republic that borders Russia, Poland & Belarus
Scores at the first commercial break (after clue 17):
| | | |
| --- | --- | --- |
| Ted | Bob | Leila |
| $3,200 | $800 | $3,000 |
Scores at the end of the Jeopardy! Round:
| | | |
| --- | --- | --- |
| Ted | Bob | Leila |
| $4,600 | $2,000 | $4,800 |
Double Jeopardy! Round
Polk was a protege of this man whom his wife Sarah "Uncle Andrew"

Using his own financing to bring his "Passion" to the screen, this stud had the largest-grossing indie film ever

This drawbridge was the only movable bridge spanning the Thames when completed in 1894

Aunt Jemima pancake mixes & syrups are owned by this company named for a "friend"ly religion

Albeit clothed, Prince Charles reenacted one of the dance scenes from this popular flick on British TV

James K. Polk's mom was a descendant of this man who founded Scottish Presbyterianism

This "Men in Black" star turned down a scholarship offer at MIT to pursue his rapping career

A possible origin for this imaginary U.S. WWII icon is a shipyard worker who signed his name on inspected craft

Rosalind Russell & Lucille Ball both played this free-spirited movie aunt

Jim Brown & Bronko Nagurski entered the Pro Football Hall of Fame at this position

A big Texas city bears the name of this man, Polk's vice president

Not just a pretty face, this crooner is a surfer & got his own series on Showtime

Led Zeppelin had an album called "Physical" this, from the Latin for "stylus"

The 2 aunts that Clara Blandick played in 1930s movies based on characters by L. Frank Baum & Mark Twain

In the 1930s this designer introduced his 3-wheeled Dymaxion car that was eventually intended to fly

Polk sent John Slidell to offer this country about 30 million bucks for some territory, but he was rebuffed

This "Lord of the Rings" actor used his artistic & writing talent to create the book "Recent Forgeries"

A controversial draw in a '99 bout between Evander Holyfield & this Brit pugilist led to an inquiry by N.Y. Gov. Pataki

On a fact-finding trip to Kentucky, this "Sister Carrie" author was entranced by singer "Aunt Molly" Jackson

Thomas Jefferson,
Cordell Hull,
Lawrence Eagleburger

In diving this maneuver is also known as a reverse or backwards somersault

Treasury Secy. Robert Walker drew up the first of these to be based on the value of imports, not the quantity

Tea Leoni could tell you he's made an "X"-ceptional journey from Yale doctoral student to actor, writer & director

Also known as mechanical drawing, this term denotes the representation of buildings, engineering works & topography

Around 68 B.C. Julius Caesar eulogized this relative, also found before "and the Scriptwriter" in a novel title

With people, this phrase means having achieved necessary rank or status; with birds, it means they're ready to fly
Scores at the end of the Double Jeopardy! Round:
| | | |
| --- | --- | --- |
| Ted | Bob | Leila |
| $13,000 | $14,000 | $8,000 |
| | | |
Final Jeopardy! Round
18th c. poem that says, "Forever cursed be this detested day, Which snatched my best, my favorite curl away!"
Final scores:
| | | |
| --- | --- | --- |
| Ted | Bob | Leila |
| $5,999 | $26,001 | $3,000 |
| 2nd place: $2,000 | New champion: $26,001 | 3rd place: $1,000 |
Game dynamics: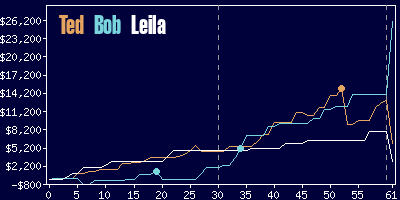 Ted
Bob
Leila
$19,000
$15,400
$8,000
24 R,
3 W
(including 1 DD)
17 R
(including 1 DD),
2 W
(including 1 DD)
11 R,
0 W
Game tape date: 2004-11-16