Show #3006 - Monday, September 29, 1997
Jeopardy! Round
Dracula could tell you that Walachia & Transylvania are regions of this country

Whether it's a fruit or vegetable, it's the basis of pomodoro & marinara sauces for pasta

Garment worn by Wee Willie Winkie as he "runs through the town, upstairs and downstairs"

In 1981 he won some respect & a Grammy for his comedy album "No Respect"

At first ABC would only let Fonzie wear a leather jacket when he was with this vehicle

Chocolate ice cream with marshmallows & chocolate-covered almonds

Cape Roca, mainland Europe's westernmost point, is on the coast of this country

This small pitcher with a nautical name is used to pour sauces over your food

The only one of The 3 Men In A Tub not affiliated with the food industry

A 1986 article on her in Ladies' Home Journal was titled "Talking With Doctor Goodsex"

Mr. T drove this title group around in a black GMC van with red trim

He "checked into his room, only to find Gideon's Bible"

Islands located in this arm of the Mediterranean include the Cyclades & Dodecanese

In "Don Quixote", Cervantes asserted that this sensation "is the best sauce in the world"

"Who killed Cock Robin? 'I,' said" he, " 'with my bow and arrow, I killed Cock Robin' "

(VIDEO DAILY DOUBLE):
In the 1980s, $10 million was spent to save this animal, seen here, from extinction

The type of title automobile driven by Elaine Nardo, Tony Banta & Alex Reiger

This 1975 cult film featured such songs as "Dammit, Janet" & "Over At The Frankenstein Place"

Malta lies about 60 miles south of this largest Mediterranean island

The name of this wine sauce served on meats betrays its point of origin, Bordeaux

"Needles and pins, needles and pins", when a man" does this "his trouble begins"

At the 1980 Winter Olympics he set records in the 500-, 1,000-, 1,500-, 5,000- & 10,000-m. speed skating races

Ernest Borgnine played this man, skipper of the U.S. Navy's PT73

In the bluegrass classic, it's "Home sweet home to me"

About a tenth of Estonia's land area consists of islands in this sea

Avery Island, Louisiana has shipped little bottles of this hot sauce to the world since 1868

"Tom, Tom the piper's son, he learned to play when he was young", but he could play only this song

At age 87, after 62 years of rule, this emperor died January 7, 1989

On "Knight Rider" William Daniels provided the voice of this talking Trans-Am

Somebody up there must have liked him; he was world middleweight boxing champ in 1947 & '48
Scores at the first commercial break (after clue 14):
| | | |
| --- | --- | --- |
| Pete | Naomi | Dave |
| $1,500 | $1,200 | $900 |
Scores at the end of the Jeopardy! Round:
| | | |
| --- | --- | --- |
| Pete | Naomi | Dave |
| $2,100 | $2,400 | $1,800 |
Double Jeopardy! Round
15-LETTER WORDS
(Alex: An intimidating-sounding category!)

In 1588 she said, "I have the body of a weak & feeble woman, but I have the heart & stomach of a king"

It's Porky Pig's favorite flower, no doubt

It's been estimated that this Cubist created more than 100,000 works during his 91 years

Concerning the pronounciation of his name, this star of "The English Patient" said, "It's 'Rafe', actually"

Term for a mystery novel that's already in the form of a question

The order of a pope who kicks you out of the flock

General & statesman who said, "When I want to know what France thinks, I ask myself"

This herb of the mint family is often grouped in song with parsley, sage & thyme

He included sketches of Dutch rural scenes in a letter to his brother Theo sent around 1885

He played Robin in 1976's "Robin And Marian" & King Richard in 1991's "Robin Hood: Prince Of Thieves"

This term for a work of morbid or absurd humor is the title of a Peter Shaffer play set in the dark

The attorney-client relationship has this quality, meaning what you tell him will stay a secret

"I still believe that people are really good at heart", she wrote in her diary July 15, 1944

Popular varieties of this flower include the Easter & Madonna

In the 1920s & 1930s, he collaborated with director Luis Bunuel to make 2 surrealist films

(VIDEO DAILY DOUBLE):
The actor seen here is also one of the world's most accomplished bridge players

The creatures mentioned in this term for a fantastic story may be joined by elves & goblins

From the Greek for "foretelling", it's a forecast of things to come

An expert on the subject, he told Ptolemy I, "There is no royal road to geometry"

Its forked branches are used for divining rods & its bark & leaves are used in potions

--

er, lotions

He completed his last great painting "Bar At The Folies Bergere", in 1882, a year before his death

In 1961 she won the Best Actress Oscar for "Two Women", becoming the first to win for a foreign language film

Oringinally an inscription like an epitaph, it now means a brief, striking observation

An expert in Robert's Rules of Order

From Waterloo he sent the message, "Nothing except a battle lost can be half so melancholy as a battle won"

This bell-shaped purplish flower of Scotland is also called ling

He became wealthy by selling engravings of his works such as "A Rake's Progress"

This knighted British star's 1985 autobiography is titled "Blessings In Disguise"

Robert Frost compared writing this unstructured verse to playing tennis without a net

Wagner's "Twilight of the Gods"
Scores at the end of the Double Jeopardy! Round:
| | | |
| --- | --- | --- |
| Pete | Naomi | Dave |
| $4,100 | $5,200 | $2,800 |
| | | |
Final Jeopardy! Round
In 1996 the Roman Catholic church had 48 men with this title in the U.S.; the Anglican church has 2 in England
Final scores:
| | | |
| --- | --- | --- |
| Pete | Naomi | Dave |
| $0 | $8,201 | $5,599 |
| 3rd place: Monorail Desktop PC | New champion: $8,201 | 2nd place: Trip to the Colony Beach & Tennis Resort, Longboat Key, Florida |
Game dynamics: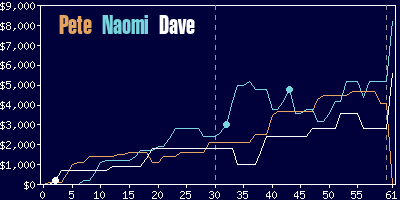 Pete
Naomi
Dave
$4,100
$5,800
$2,600
16 R,
2 W
21 R
(including 1 DD),
6 W
(including 1 DD)
9 R
(including 1 DD),
2 W
Game tape date: Unknown