Show #3990 - Friday, December 28, 2001
2001 Holiday Kids Week game 5.
(Cheryl: Hi, I'm Cheryl of the Clue Crew. You must at least be
this tall
to play on
Jeopardy!
today. Stay tuned.)
Jeopardy! Round
I'M TALL ENOUGH TO RIDE THAT!

This nickname of a Native American woman, Chief Powhatan's daughter, means "playful one"

Put this legume spread on your tongue; either smooth or chunky is okay

You'll find the world's most famous pyramids in this northern African country

The glazing or frosting on a birthday cake

36" tall? You're big enough for Racing Rapids at Kennywood, near Pittsburgh in this state

Born in Weymouth, Massachusetts in 1744, she was wife of one President & the mother of another

Drink a glass of water while you squeeze this body part that contains a septum

Like mausoleums, the ancient pyramids were originally built to be used as these

A special edition of Trivial Pursuit focuses on this movie series, with categories about characters, weapons & droids

Two-word name
for the popular method
of cold-weather transport
seen here

Seen here is the Big Shot, which you have to be 4 feet tall to ride on the Stratosphere Tower in this Nevada city

The money this "Little Women" author received for her fiction made her the main breadwinner for her family

Try chewing this confection usually made of chicle (but make sure you've got enough for the entire class)

It's the name for the type
of preserved human seen here

You can launch your medical career with this classic game of skill that features "Cavity Sam"

Use your noodle.
It's the country seen here

Make sure you're at least 42" tall if you want to ride Grizzly River Run at this new theme park next to Disneyland

The 300 slaves she escorted to freedom on the underground railroad included her brother, sister & parents

Breathe into a bag for a minute; this gas, CO2, can disrupt the nerve impulses which cause hiccups

Little is known of the builders of the pyramids of the sun & moon at Teutihuacan in this country

Gingerbread men make their way through Peppermint Stick Forest in this board game

When describing rocks it means "formerly molten"

When you hit 54", get on the Mantis, a stand-up scream machine at Cedar Point in this "Buckeye State"

Famous student seen here on a stamp with her teacher,
Anne Sullivan

It's the large mythological creature that "guards" the pyramids

Homer's other epic Greek poem besides "The Odyssey"

You must be 48" tall to ride the Busch Gardens roller coaster named for this Scottish "Monster"
Scores at the first commercial break (after clue 14):
| | | |
| --- | --- | --- |
| Rachel | Bobby | Thomas |
| $1,000 | $2,200 | $5,000 |
Scores at the end of the Jeopardy! Round:
| | | |
| --- | --- | --- |
| Rachel | Bobby | Thomas |
| $2,600 | $3,600 | $10,600 |
Double Jeopardy! Round
| | | | | | |
| --- | --- | --- | --- | --- | --- |
| WELCOME TO THE WHITE HOUSE | | | | | |
| Almost every spring kids come to the White House to roll & hunt these | Types of this animal include appaloosas, palominos & pintos | March 28, 2001: Hmm..."Hip Hoppin; Howdy Diddy"...That's not right..."P. Diddy"! That's the name I'll call myself! | Footwear from this company includes the Air Edge Max V & the Air Jordan XVI | You can breathe easier knowing that these paired organs are central to the respiratory system | |
| 140 people can sit down to supper in the room seen here, known as the State this | | June 25, 1876: Leading the men to Little Bighorn to capture an Indian village; how hard could that be? | | If someone says, "Your epidermis is showing", he's referring to the outermost layer of this | An abbreviation for a compass direction |
| This first President named Roosevelt made the name "White House" official, putting it on his stationery | Histah was Tarzan's word for this kind of reptile, though hisstah would be more appropriate | 1975: One day I'll be so rich I could buy my own island, maybe Australia. Starting Microsoft with my pal Paul is a good start | The name of this company that makes classic weatherproof boots means "a forested area" | The middle part of this organ contains 3 tiny bones called the hammer, anvil & stirrup | A USDA top grade of poultry |
| It was built in 1902, expanded in size in 1909 & 1934 & is now the the title of a popular TV show | Peppy, this type of bird, was created as the symbol of Wise potato chips | Sept. 14, 1812: Feelin' good; occupied Moscow today. Josephine would have been impressed | This brand's Kobe comes in kids' sizes, too | The 3 main types of blood vessels are capillaries, veins & these, which carry blood from the heart | The 21st letter of the English alphabet |
| This glamorous First Lady redecorated the White House when she lived there, 1961-1963 | | 1876: Finished writing "Tom Sawyer" but folks'll have to wait 8 years for a sequel | This shoe style was named for a girl in a comic strip | In an emergency this hormone prepares you for "fight or flight" | At the beginning of some last names it's used to indicate "grandson of" |
Scores at the end of the Double Jeopardy! Round:
| | | |
| --- | --- | --- |
| Rachel | Bobby | Thomas |
| $23,600 | $7,800 | $15,000 |
| | | |
Final Jeopardy! Round
NORAD's annual tracking of his flight progress goes back to 1955 & now has a website
Final scores:
| | | |
| --- | --- | --- |
| Rachel | Bobby | Thomas |
| $30,001 | $2 | $25,000 |
| Winner: $30,001 & trip to Oahu, Hawaii with stay at Hilton Hawaiian Village in Waikiki | 3rd place: $1,000 shopping spree at HPShopping.com & trip to Oahu, Hawaii with stay at Hilton Hawaiian Village in Waikiki | 2nd place: $1,000 shopping spree at HPShopping.com & trip to Oahu, Hawaii with stay at Hilton Hawaiian Village in Waikiki |
Game dynamics: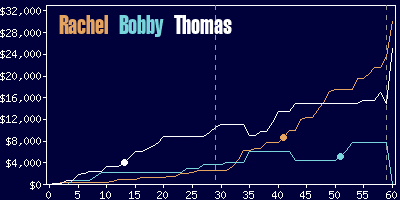 Rachel
Bobby
Thomas
$23,400
$8,000
$14,800
25 R
(including 1 DD),
0 W
10 R
(including 1 DD),
1 W
22 R
(including 1 DD),
2 W
Game tape date: 2001-12-02