Show #3986 - Monday, December 24, 2001
2001 Holiday Kids Week game 1.
Jeopardy! Round
This company also has a Game Boy camera (sold separately, of course)

Townsville title trio seen here

This fluffy white confection holds your Rice Krispies treats together

When you're mushing in northern Canada, you're on one of these pulled by dogs

Save your tears because "it's no use crying over" this "spilt" beverage

Hungary,
Lithuania,
Albania

A synonym for "present", this type of "certificate" lets you run wild at the store that issues it

Pushing too many buttons gave George & Jane "button finger" (much like carpal tunnel syndrome) on this cartoon

With red & white dough twisted together, you can make cookies shaped like this Christmas treat

To have a roaring fire you might spend your vacation helping dad clean out this part of the house, seen here

If you're anxious to spend your money your dad might ask if it's "burning a hole" here

This project that may include 1,000 pieces has a type of tool in its name

This "cowardly dog" is named for the trait he's sorely lacking

For a great snack you can make chips by baking strips of this round Mexican flat bread

Traditionally, you can watch the Tournament of Roses Parade on this day

It's what you're "in" when you're in big trouble (or in a Jacuzzi)

In this now "digital" home viewing format, movies may include extra footage & interviews with the actors

This cartoon horse hails from New Mexico Territory

With your homemade chips, serve this Mexican dip made from mashed avocado

It's the exciting winter activity seen here

It's said that this "is mightier than the sword"; our writers would agree

This, made by Schwinn or another company, may have a low crossbar to make it easy to get on & off

He's the young doggie seen here

Maybe mom will let you thread the chunks of meat & vegetables on skewers to make the Middle Eastern dish

Vacationers know the island of St. Bart's, part of the West Indies in this sea isn't named for young Mr. Simpson

When faced with a tough decision you may find yourself "between" this "and a hard place"
Scores at the first commercial break (after clue 15):
| | | |
| --- | --- | --- |
| Nick | Lauren | Allyson |
| $1,400 | $600 | $2,600 |
Scores at the end of the Jeopardy! Round:
| | | |
| --- | --- | --- |
| Nick | Lauren | Allyson |
| $2,200 | $5,200 | $7,200 |
Double Jeopardy! Round
As well as enforcing the rules, this person on the field is the time keeper

Dude, I left my car
in a no-parking zone,
and it got launched
with the Discovery,
one of these spacecraft

Scalding water & acids are common causes of this injury that comes in first, second & third degrees

It's 54.9 rounded to the nearest 10

In books it's the nickname of boy detective Leroy Brown

Among the human-eating creatures of mythology was the Minotaur, who was part man, part this creature

Peter Handke wrote a novel called this positions's "Fear of the Penalty Kick"

Druid, some joker took my car to this ancient monument

Don't tilt the head back to stop one of these

--

blood may collect in the stomach & nauseate the victim

The price of a $100 hat becomes this after it's been discounted by 15%

This piece of equipment fits around the ankle bone & ends under the knee

Check it out

--

my car is on a dude's head at this South Dakota landmark, begun in 1927

The universal distress signal for this emergency
is illustrated here

The 4 angles in a square add up to this many degrees

It's the city where you'll find the monument seen here

Like Sagittarius, the Chinese god Yi was an expert with this weapon

Dude, I said I wanted to go
to the Golden Arches, not the arch in this city, seen here

The 2 main types of fracture are simple & this more serious type

It's the square root of the square root of 16

Milton Bradley "says" this game of lights & sounds is the "ultimate brain battle"

In an Incan version of the flood story this wooly beast of burden tells a farmer to go to higher ground

I totally recognize this Italian place seen here; it could seat 50,000

--

& a cool automobile

After a severe injury, confused behavior is a sign of this, defined as inadequate blood flow to the vital organs

If it's 5 miles to the train station & 25 miles by train to the city, it's this many miles total for the round trip

The largest constellation, this "water serpent" spans nearly a quarter of the sky
Scores at the end of the Double Jeopardy! Round:
| | | |
| --- | --- | --- |
| Nick | Lauren | Allyson |
| $3,400 | $5,200 | $19,200 |
| | | (lock game) |
Final Jeopardy! Round
This California structure whose official color is international orange is one of the 7 Wonders of the Modern World
Final scores:
| | | |
| --- | --- | --- |
| Nick | Lauren | Allyson |
| $6,400 | $10,400 | $26,200 |
| 3rd place: $1000 shopping spree at HPShopping.com & trip to Waikiki with stay at Hilton Hawaiian Village | 2nd place: $1000 shopping spree at HPShopping.com & trip to Waikiki with stay at Hilton Hawaiian Village | Winner: $26,200 & trip to Waikiki with stay at Hilton Hawaiian Village |
Game dynamics: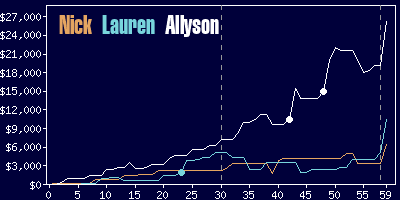 Nick
Lauren
Allyson
$3,400
$4,200
$12,000
10 R,
2 W
14 R
(including 1 DD),
4 W
24 R
(including 2 DDs),
6 W
Game tape date: 2001-12-02