Show #4686 - Monday, January 10, 2005
Jeopardy! Round
SO NICE THEY NICKNAMED ME TWICE

The Library of the first President Bush, in Texas, has a film of his first steps, in this state where the family vacations

Not the frost, but the blood was on the punkin in this 1978 Jamie Lee Curtis film

"The Chairman of the Board", "Ol' Blue Eyes"

In 1975, Lyn Weiner opened the Kennelworth, a hotel in New York City for these pets

When it's muggy, "it's not the heat, it's" this, the amount of water vapor in the atmosphere

What's good for the goose is good for this, also meaning a glance

The war exhibit "Korea Plus 50: No Longer Forgotten" is a joint-access project between the libraries of these 2 presidents

(Hi. I'm Bob Woodward.) In "All the President's Men", Carl Bernstein was played by Dustin Hoffman & I was portrayed by this handsome star who bears no resemblence to me

"America's Sweetheart", "Little Sure Shot"

The Celtic Lodge and Kelly's Hotel are famous hotels in this world capital

Each second about 100 of these natural electrical discharges occur somewhere on Earth

That this bird leaves its eggs in other birds' nests, that's just "crazy", man

The Ford Library is on the campus of this Ford alma mater

A canoe trip into the Georgia backwoods became a living nightmare for four friends in this 1972 film

"Conqueror of the World", "Macedonia's Madman"

This large ocean liner that's been docked in Long Beach since 1967 is a hotel & tourist attraction

A "little" one of these "ages" ran between the 14th and 19th Centuries

It's a glossy black bird, or to toot your own horn

The LBJ Library sells CDs of the President's phone calls, like the following one with her

LBJ: "...how we can carry on, if you give us a little strength."
Woman: "But you know what I wanted to say to you about that letter? I know how rare a letter is in a president's handwriting."

For this '74 flick, Mel Brooks used some of the same lab equipment that was used in a 1931 film

"The Father of the H-Bomb", "Dr. Strangelove"

With canals, piazzas, and St. Mark's Square, this Vegas hotel sits on the old Sands Hotel site

In terms of rainfall, it's the driest continent after Antarctica

Something done on a whim may be done on this songbird of the family alaudidae

Lyn Nofziger and Edwin Meese have their own sets of folders for perusal at his library

Erich Segal actually wrote the screenplay for this 1970 movie first; then the novel

"The Poet of the Commonplace", "The Children's Poet"

This "presidential" hotel was elected to host the first Academy Awards ceremony

When the folks at the National Weather Service are feeling a bit "DZ," "DZ" stands for this weather condition
Scores at the first commercial break (after clue 15):
| | | |
| --- | --- | --- |
| Joshua | Rick | Jennie |
| $4,400 | -$800 | $2,000 |
Scores at the end of the Jeopardy! Round:
| | | |
| --- | --- | --- |
| Joshua | Rick | Jennie |
| $7,800 | -$1,200 | $2,600 |
Double Jeopardy! Round
SPORTS TROPHIES
(Alex: We want you to name the sport.)

Per the U.S. Naval Observatory, the date of the first day of the current millennium

Ususally an altarpiece, it's a painting consisting of 3 separate panels

It's the military rank the Constitution gives the U.S. President

After the British took over this island in 1797, they anglicized Puerto de Espana to Port of Spain

Also known as a silvertip, it can weigh up to 900 pounds

He wasn't a scenery-chewing actor, he was the first "astrochimp" that the U.S. launched into space

He advocated sfumato, a subtle blending of tones, saying light & shade should blend like smoke as seen here

A Yokozuna is an athlete who has reaced the highest rank in this sport

In 1946 the name of Podgorica was changed to this for Yugoslavia's leader; it was changed back in 1992

To overpower or dim the vision of by intense light

In 1985 Andy Warhol did the first painting in what has become a big ad campaign for this vodka

Andre Breton hailed this man's art as "the most hallucinatory known until now"

A lesser official in a royal household; some are "of the guard"

This Spanish port was once Carthago Nova, or "New Carthage"

"Swift" nickname of Supreme Court Justice Byron White

City Lights Books helped folks lacking space &/or money as the USA's first bookstore to sell only these

The Air Canada Silver Broom

Aptly, Georgia O'Keeffe's first one-woman show was at this man's 291 Gallery

It's the Russian term for the son & heir of a czar

Madagascar retained the first 2 letters of this, its previous name

He's the conqueror of Jerusalem mentioned in II Kings 24

In March 1825 Joel R. Poinsett was confirmed as the first U.S. minister to this country

Courbet was the leader of this movement; verism is an extreme form of it

From a word meaning "to send", this 5-letter word designates an "extraordinary" diplomat

What's now Kaliningrade, Russia was the capital of East Prussia under this name meaning "King's Mountain"

This port city is the Republic of the Congo's capital
Scores at the end of the Double Jeopardy! Round:
| | | |
| --- | --- | --- |
| Joshua | Rick | Jennie |
| $12,600 | $3,200 | $900 |
| (lock game) | | |
Final Jeopardy! Round
This Russian-born author & scientist who died in 1992 said, "I do not fear computers. I fear the lack of them"
Final scores:
| | | |
| --- | --- | --- |
| Joshua | Rick | Jennie |
| $15,000 | $4,500 | $1,300 |
| 2-day champion: $39,001 | 2nd place: $2,000 | 3rd place: $1,000 |
Game dynamics: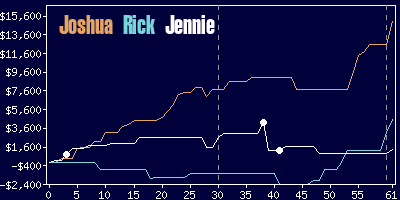 Joshua
Rick
Jennie
$12,600
$3,200
$5,200
21 R,
2 W
7 R,
3 W
10 R
(including 2 DDs),
3 W
(including 1 DD)
Game tape date: 2004-11-08