Show #5019 - Thursday, June 8, 2006
Jeopardy! Round
| | | | | | |
| --- | --- | --- | --- | --- | --- |
| | | | | | |
| This Philippine city was proclaimed a capital on June 24, 1571 & again on June 24, 1976 | In December 2005 an estimated 13.5 million late-night viewers tuned in to see him welcome Oprah to his show | The peen is opposite the striking surface on this tool | New to Museum Mile, the Neue Galerie features works from Austria & this country, home of Ernst Kirchner | This British sport features 2 teams of 11 members & 2 wickets placed 22 yards apart | |
| June is Dairy Month in this 30th state & celebrates its proud dairy heritage | In 2004 this "X-Files" star disappeared behind the camera to direct his first movie, "The House of D" | | 5 of the fewer than 40 known Vermeers reside in this 5th Avenue museum | Battledore & shuttlecock was the forerunner of this racket game | Now it's a party! Here's Joe with this "pony" cask of ale |
| The National Foundation for this June holiday is based in Baltimore | In 1988 he won a Pulitzer Prize for his humorous newspaper columns | Someone with an ulterior motive "has" this tool "to grind" | The exterior of this museum at 5th & 89th was designed to break the rectangular grid of Manhattan | It's the trademarked name for the game that uses a hollow white celluloid ball that's 40 mm in diameter | A rounded mass of chewing gum |
| Famous date on which more than 5,000 ships carrying Allied troops crossed the English Channel | With 6 Major League teams including the Padres & Yankees, he hit 465 home runs & won 7 Gold Gloves | The saw, an ancient tool, was first patented in this shape by Samuel Miller in 1777 | The Museum of the City of N.Y. has the derby of this governor, the first Catholic to be a major party pres. candidate | A fronton is the arena in which this sport is played | Over there; often hitched with hither |
| Declared a public enemy by the Senate, this Roman emperor committed suicide on June 9, 68 A.D. | Take five & name this leader of the jazz quartet heard here | A sickle is a crescent-shaped blade on a short handle; this is a long, single-edged blade on a long, curved pole | A Latino art museum goes by the name El Museo del this, a Spanish word for the inner city | | When paired with vigor, it signifies exuberance |
Scores at the first commercial break (after clue 15):
| | | |
| --- | --- | --- |
| Roberta | Jessica | Kerry |
| $3,600 | $1,000 | $2,800 |
Scores at the end of the Jeopardy! Round:
| | | |
| --- | --- | --- |
| Roberta | Jessica | Kerry |
| $7,200 | $3,600 | $4,600 |
Double Jeopardy! Round
CITY OF THE DAY: SAN FRANCISCO

LITERARY CROSSWORD CLUES "L"

PEOPLE, PLACES & THINGS WE KNOW

Members of the American Indian movement seized this then-unoccupied island in 1969 & were forced off in 1971

In a way, this show whose theme is heard here was 12,000 years in the making

"King" of nonsense poets
(4)

If someone wants you caught & is offering a reward, you have this "on your head"

E.-C. Genet, an 18th c. French minister to the U.S., undermined the neutrality policy of this pres., who got him recalled

This antonym of "to mark" is a synonym of "efface" & rhymes with it

1971

--

those were the days for this show

"Sheepish" essayist Charles
(4)

Merv could tell you this monster who drew the chariot of the sun may come from Indo-Iranian mythology

Vijaya Pandit saw both sides of the Cold War as ambassador of this country to the U.S. & USSR in the 1940s

The traditional mark of someone who can't sign his name has this opposite in tic-tac-toe

This poet was the first black

--

& the first female

--

streetcar conductor in San Francisco

This sitcom's theme song is heard here

Natty Bumppo's accessory, or his nickname
(15)

Last name of the "kinky" author of "'Scuse Me While I Whip This Out" who ran for Texas governor in 2006

In 1919 former British foreign minister Grey came over to try to nudge the U.S. into this world body

--

no dice

It's at the opposite end of a race from your mark

An elaborate 1915 San Francisco expo celebrated the completion of this, which made it much easier to sail to the city

I'm so glad you had the time to tell me this zany variety show whose theme is heard here

Robin Hood's pseudonym in "Ivanhoe", or Tennyson's "Hall"
(8)

18th century English writer Samuel & a motel-chain founder both had this last name

Carlos de Icaza, ambassador from this country, attended the 2005 inauguration of the new mayor of Los Angeles

Mark as in "mark my words" means "pay attention"; this opposite word is from the Latin for "to not know"

It was once a military post under the flag of Spain; it's now part of Golden Gate National Recreation Area

Stand back! It's the '70s action series whose theme is heard here

James T. Farrell's Studs
(7)

It's the 820-mile-long river represented here

Vincent Massey was Canada's first minister to the U.S. & later the first non-Brit to hold this post

As "mark" can mean "to make conspicuous", one antonym could be this synonym of "skin"
Scores at the end of the Double Jeopardy! Round:
| | | |
| --- | --- | --- |
| Roberta | Jessica | Kerry |
| $12,800 | $11,400 | $8,600 |
| | | |
Final Jeopardy! Round
It's the only state that doesn't have an undergraduate university or university system named just for the state itself
Final scores:
| | | |
| --- | --- | --- |
| Roberta | Jessica | Kerry |
| $24,201 | $5,599 | $10 |
| 2-day champion: $41,701 | 2nd place: $2,000 | 3rd place: $1,000 |
Game dynamics: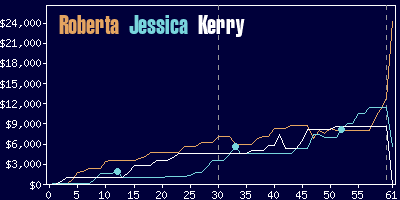 Roberta
Jessica
Kerry
$12,800
$14,200
$8,600
21 R,
4 W
17 R
(including 1 DD),
3 W
(including 2 DDs)
13 R,
1 W
Game tape date: Unknown