Show #3937 - Tuesday, October 16, 2001
(Jimmy: Hi, I'm Jimmy of the Clue Crew. Now, I'm not trying to
hustle you
--but stay tuned for
Jeopardy!
)
Jeopardy! Round
PROVINCES
(Alex: You have to identify the country.)

SEE THE "Z"
(Alex: Or the "zed".)

New Brunswick & Prince Edward Island

In Britain, this edible is known as a courgette

Francis won his first Oscar for co-writing this 1970 film biography starring George C. Scott

For him, it was "Goodbye Yellow Brick Road" & hello, godfatherhood to John Lennon's son Sean

This object that projects from a rhino's nose is made from a protein called keratin

People considered this type of ship reliable until the 1930s

This star had a heart attack & was even given last rites while making the 1979 Coppola film "Apocalypse Now"

Michael Jackson can leave his son, Prince Michael, "Home Alone" with this godfather

Like many health-conscious humans, rhinos have this type of diet

Strummable stringed instrument seen here

Leonard Maltin said the work of this relative of Francis' was "annoying" in "Peggy Sue Got Married"

The godfather of Madonna's son Rocco is this Police man, who left that musical force in 1984

The rhino is closely related to this animal, though we won't hear "My kingdom for a rhino" anytime soon

There are about 20 species of this popular garden favorite seen here

If you don't know the name of this Coppola-directed 1996 Robin Williams film, then you don't know this title

In 2001 Barry Bonds joined his godfather, this "Say Hey Kid" & fellow S.F. Giant, in the 500-HR club

Except for the Sumatran type, rhinos don't have much of this, except at tail tips or the fringe on the ears

Married name of the 1932 multi-Olympic medal winner seen here

In 1999 Francis produced "The Virgin Suicides", which marked the directorial debut of this woman, his daughter

Winona Ryder could've learned to "turn on, tune in, drop out" from him

People turn into savage rhinos in this Romanian-born author's 1959 play
Scores at the first commercial break (after clue 15):
| | | |
| --- | --- | --- |
| Ellen | Kent | Sharon |
| $1,200 | $2,500 | $400 |
Scores at the end of the Jeopardy! Round:
| | | |
| --- | --- | --- |
| Ellen | Kent | Sharon |
| $1,000 | $4,800 | $900 |
Double Jeopardy! Round
LITERARY TRANSLATIONS
(Alex: We want the English translation here.)

The haunting "La Casa de los Espiritus"

This vertical, pointy-arched style of 12th-15th century Europe was revived in the late 18th century

One of these costly disasters hit Northridge, California on January 17, 1994

He's the fictional character who tutors "My Fair Lady"

County General Hospital provides the setting for this current NBC drama series

The name of this cigarette ingredient comes from the ambassador who sent tobacco to Pairs

Dostoyevsky's murderous "Prestupleniye i Nakazaniye"

The simple 18th century British style named for this queen features red brick, not her lace

Seen here, he shot a man in Texas, November 24, 1963

The father of England's King Edward VI

This word for "actor" comes from the father of Greek tragedy

An instrument of Gunter Grass' success, "Die Blechtrommel"

A little house in this early 20th century American "school" has a low-pitched roof & long horizontal lines

Pictured here in happier times, this pair was sentenced to death on April 5, 1951

Trying to reconcile free & slave states in the 1800s, he was the architect of the Missouri Compromise

Until his 1979 death, Jack Soo played Det. Nick Yemana, who made coffee for the 12th Precinct on this sitcom

This mat used on a plate beneath sandwiches & cakes comes from a drapery shop owner

Camus' gripping "La Peste"

The Byzantine style, mixing east & west, featured domes & these tall towers attached to mosques

During World War II this country surrendered to Allied forces on September 8, 1943

In 1854 this naturalist observed that much of winter is "suggestive of an inexpressable tenderness"

In the fall of 2000, Tim Daly hit the road on an updated version of this series last seen in 1967

An Austrian novelist's name lives on in this tendency in which a person finds pleasure in receiving abuse

The chilling tale "Froken Smillas Fornemmelse For Sne"

Colonial was the American version of this style named for 4 British kings

It was not a merry Christmas for this man on December 25, 1989; his own security forces killed him

At the time of the Japanese attack on Pearl Harbor, this man was vice president of the U.S.

Old Ebony, ridden by Chuck Connors in this western, was the grandson of Kentucky Derby winner Flying Ebony

This synonym for "severe" comes from a harsh Athenian lawmaker
Scores at the end of the Double Jeopardy! Round:
| | | |
| --- | --- | --- |
| Ellen | Kent | Sharon |
| $3,600 | $7,200 | $4,100 |
| | | |
Final Jeopardy! Round
Now part of a national recreation area, it was once referred to as "Uncle Sam's Devil's Island"
Final scores:
| | | |
| --- | --- | --- |
| Ellen | Kent | Sharon |
| $4,200 | $6,200 | $8,100 |
| 3rd place: Trip to Doubletree Guest Suites Maingate, Orlando | 2nd place: Trip to London | New champion: $8,100 |
Game dynamics: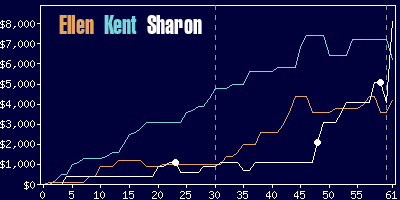 Ellen
Kent
Sharon
$3,600
$7,200
$5,400
15 R,
3 W
23 R,
1 W
11 R
(including 1 DD),
3 W
(including 2 DDs)
Game tape date: 2001-08-22