Show #3898 - Wednesday, July 11, 2001
Jeopardy! Round
THE DAY THE MUSIC DIED
(Alex: You have to name the musician)

The southern part of Africa is often called "Sub-" this 3 1/2-million-square-mile area

This woman is wanted in connection with stolen hair & the kidnapping of her boyfriend by Philistines

In 1805 Charles Bulfinch enlarged this city's Faneuil Hall

Founded in 1957, Dialamerica, Inc. is the USA's largest private company in this type of marketing

August 16, 1977 in Memphis, Tennessee

It's the continuation of the suit coat's collar

The country's name is properly pronounced "Luh-Soo-Too", but is spelled this way

Wanted in the case of fruit missing from the forbidden tree, this animal is considered long & dangerous

Canberra designer Walter Burley Griffin served as this American architect's assistant from 1901 to 1906

Harry Bogen is the dressmaker hero of the musical "I Can Get It for You" this way

December 8, 1980 in New York City

A region of northern Scandinavia or Russia

In 2000 Durban in this country hosted the 13th International AIDS Conference & the first held on the continent

This Egyptian crime boss is wanted in connection with ordering the death of all male Jewish children

Richard Hunt, the first American to attend the Ecole des Beaux-Arts, designed this statue's stone-&-concrete pedestal

[Hi, I'm Jeff Bezos, founder & CEO of Amazon.com] It's estimated that 60% of net shoppers flag an average of 7 sites with one of these, also used in products we sell

September 18, 1970 in London

The type of filmmaking seen here

A lion subspecies shares its name with these nomadic people of Tanzania & Kenya

Wife of Ahab, this Baal worshiper & harlot was last seen in Jezreel

Cass Gilbert designed this merchant's NYC skyscraper for 270,000,000 nickels or 135,000,000 dimes

In 1978 Campbell Soup bought this pickle producer famous for its stork symbol

Perry Farrell of Jane's Addiction & Porno for Pyros founded this mega-concert event

Meaning "guided one", it was the title of the 1880s Sudanese leader whose forces defeated General Gordon

Wanted for treason against King David, he's known to have killed his half-brother for raping Tamar

Albert Speer, who designed a stadium for this city, was convicted of war crimes in trials there

Strangely, this "colorful" German company sells its classic travel alarm clocks only in black & white

August 9, 1995 in Forest Knolls, California

Take your gemstones to this specialist to have them cut & polished
Scores at the first commercial break (after clue 15):
| | | |
| --- | --- | --- |
| Michael | Melissa | Downey |
| $1,400 | $400 | $1,000 |
Scores at the end of the Jeopardy! Round:
| | | |
| --- | --- | --- |
| Michael | Melissa | Downey |
| $2,400 | $1,500 | $2,400 |
Double Jeopardy! Round
The first division of this U.S. fighting force spearheaded the landing at Inchon

David Janssen had a 4-year "run" in this series; Tim Daly hopes for at least that in the remake

The Mayo Clinic was started in

Rochester

in this state

In the movie "The Clock", Judy Garland finds love in this "stately" NYC station

In 950 this instrument in Winchester Cathedral needed 70 men to work the bellows

Singer of "My Cherie Amour" whose secret identity is Diana Prince

His reaction to the North's invasion was "Dean, we've got to stop the blanks of blanks no matter what"

This spin-off spun off a show of its own, "Checking In", with Marla Gibbs continuing as Florence Johnston

In 1914 Mayo isolated the pure hormone thyroxin, made by this gland

St. Petersburg's Finland Station is famous as the site of this leader's return to Russia in 1917

The Minnesingers were this present-day country's counterpart of France's troubadours

Morticia gets a big wet one from Richard Dawson on this ooky game show

In 1950 Gen. Walton Walker, the main U.S. field commander, was killed riding in this type of vehicle

He provides the voice for Thurgood Stubbs on "The P.J.s"

In 1950 Mayo doctors Edward Kendall & Philip Hench won the Nobel Prize for their work with this steroid

This capital city's main train station is known as Bahnhof Zoo, & not just at rush hour

Guido D'Arezzo established the series of lines now called this as the basis of musical notation

Star of "The Exorcist" who disappears from the Maryland woods in a scary 1999 film

In bitter battles of 1951, Pork Chop was a hill & Heartbreak was one of these

"Happy Days" was spun off from a segment on this "Love"ly comedy anthology show of the '70s

The Mayo-Gibbon bypass machine assumes the functions of these 2 different organs

Sherlock Holmes often left London from this station that shares its name with a battle

From 590 to 604 this type of music would have gotten a Papal Choice Award

Louisa May Alcott & relationship guru John Gray collaborated on this book sequel

The sound of a Commie submachine gun as it "belched" out bullets gave it this nickname

We have to cop to the fact he created "Police Story"; "The Blue Knight" was based on one of his books

In 1973 Mayo introduced to North America this scanner that uses a computer & X-rays

A real depot inspired the symbol of this Wisconsin insurance company, seen here

A 13th century hit tells us this "is icumen in"

Dystopian Anthony Burgess novel that's a New Zealand fish
Scores at the end of the Double Jeopardy! Round:
| | | |
| --- | --- | --- |
| Michael | Melissa | Downey |
| $10,400 | $1,900 | $7,400 |
| | | |
Final Jeopardy! Round
CONTEMPORARY BRITISH AUTHORS
In May 1973 Sports Illustrated ran one of his short stories under the title "A Day of Wine and Roses"
Final scores:
| | | |
| --- | --- | --- |
| Michael | Melissa | Downey |
| $5,900 | $250 | $1 |
| 2-day champion: $18,500 | 2nd place: Trip to Doubletree Guest Suites (Maingate), Orlando | 3rd place: Pair of bicycles from ebikes.com |
Game dynamics: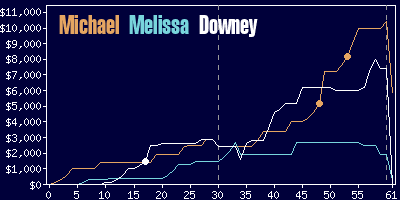 Michael
Melissa
Downey
$9,200
$1,900
$6,800
21 R
(including 2 DDs),
1 W
11 R,
3 W
19 R
(including 1 DD),
4 W